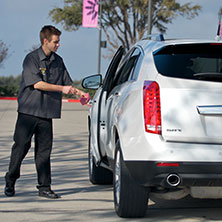 Service Standards- It is extremely important to ensure that your provider can operate as an extension of you and your team.
Insurance- Yes, you read that correctly. Insurance is extremely important in a valet provider, because it protects you, your guests and their vehicles.
Employee Hiring Process- We recommend choosing a company that background checks and drug tests their employees. We also think a DMV check is a great requirement for valets.
Management- Understanding how your valet provider is structured can make a huge difference in the service you receive. For example, having a manager at each account at every shift will make sure that there is an experienced and capable individual on your front drive at all times.
Claims- An effective and efficient claims procedure is a must have for valet companies. This ensures that in the unfortunate event something happens, you will know that your company has a plan to address the issue.